Ashevillage Tours
Centered in the oldest mountains on the planet, Asheville, NC is considered one of the greenest towns in the United States. Find out why….not from a brochure, but directly from the people who are making it happen. Ashevillage Tours are guided and personalized, exploring the greenest projects and people Asheville has to offer.
Please join us! Walk through the homes and gardens of the natural living pioneers. Visit their flourishing edible landscapes. Taste fresh herbs and homemade fermented treats. Explore beautiful hand-sculpted earthen buildings and meet the designers who created them. Discover how you can use these innovative practices in your own home after experiencing them firsthand, and explore other examples of sustainability in action. Check out a green schoolyard where children built a chicken house and wood-fired earthen oven, urban homesteaders who are growing fish in rooftop water, community gardens, and more. At the end of your tour, your guide will provide a list of local hot spots, organic restaurants, cafes, and more.
—
Featured Tour options
Site A) The Ashevillage Institute Demonstration Site: A one-acre eco-urban paradise of edible landscapes; gravity-fed rainwater catchment and aquaponic ponds and waterfalls; recycled courtyard ampi-theatre; earthen retrofitted homes; and a woodland sanctuary connected to 60 acres of trails. Meet our staff and residents. Enjoy some tasty homemade garden fermented treats.
Site B) Bixby Cottage: The first modern earthen building in the state of North Carolina. Built in 1998. This sweet little hand-sculpted cob dwelling features beautiful arches, niches, and a mud bench. We're talking 100% local red dirt, straw and sand.
Site C) Pearson Community Garden: Imagine turning an old dumping ground into a thriving source of healthy food and community gatherings. Pearson Garden has been around for several decades. Featuring two earthen-built structures, a large meeting pavilion, dry toilet, organic gardens, bees, a greenhouse, and a tiny natural pond.
Site D) Isaac Dickson Elementary School: Teachers at this public school encourage students to create their own gardens. Dirt, chickens and bees, compost and mud structures…all are student created. They even built a wood-fired baking to make homemade pizza!
Site E) Yardie Homesteads: What are people doing in their own backyards to grow food, harvest water, save energy, and live the good life? Visit any of five of Asheville's living laboratories, aka: urban backyards + vision + action.
Site F) Green Sage Cafe or Sunny Point Cafe: Learn about how the greenest restaurants in Asheville set up their extensive recycling and compost systems, energy systems, and food-sourcing.
—
Tour Guides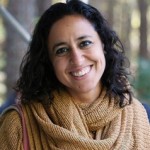 Janell Kapoor is the founding director of Kleiwerks International. She is an avid mud mama and international movement-builder, designer, and teacher of indigenous building skills. Janell's work has inspired hundreds of thousands of people from over 52 countries to build their own homes with what they have wherever they are. She led the first earthen building trainings in Thailand, Argentina and Turkey. Her participants have gone on to establish natural building and permaculture demonstration centers, programs, businesses, policy, and homes that have the potential to reduce our global footprint by more than 90%. Janell founded and lives at the Ashevillage Institute, which features an integrated living systems design, including an 18,000 gallon five-pond catchment, filtration, aquaculture, and greenhouse system; chickens, bees, mushrooms, edible and medicinal landscape; recycled courtyard ampitheatre and earthen oven with unique mud art; and natural renovated houses with niches and arches throughout. Janell is dedicated to the champion within each of us, and to the possibility that we may live in balance with ourselves, each other, and this most beautiful planet we are blessed to inhabit.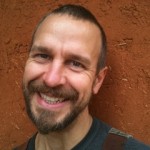 Ash Aymond is the Site Coordinator of the Ashevillage Institute's one-acre Permaculture demonstration center. His background is in engineering with a passion for natural systems design, building and teaching. As a mentor and tour guide to students and sustainable living enthusiasts, Ash has a particular knack for helping complex ideas make sense. He walks his talk by exploring as many aspects of sustainable living as he can get his hands on. Ash's passion is to implement practical skills in order to build solutions that support community life and show people how to integrate the natural world into their daily activities. Ash has worked and lived at communities that practice and promote ecological living in both Oregon and Asheville, North Carolina, where he currently calls home.
—
Tour Packages & Fees
We have suggested package tours, but if you prefer something else, please let us know. We will be happy to customize a tour to meet your needs. Tours begin between 10am – 1pm, Monday thru Saturday. For off-site tours, your guide will travel with you in your vehicle.
Tour Options
Personal/Small Group Tours (Minimum 5 people or
equivalent in tour fee)
School/Organizational Tours (Minimum 20 people or
equivalent in tour fee)
1.5 hour – Site A:
Visit our eco-urban demonstration site

$15/person

$10/person

3 hour – Sites A, B and C:
Includes the above + 1 earthen building
+1 community garden OR 1 school project

$25/person

$15/person

Full day – Sites A, B, C, D, E, and F:
Includes the above + more sites
$65/person
$25/person
—
Reservations
To make a reservation or for questions, please contact info@ashevillage.org.
A $50 nonrefundable deposit is needed to book your tour.
Payments can be made via Paypal, check, or cash.
Tour proceeds support local solutions in action.
—
We want to hear from you
Please let us know how we can serve you further. If you are interested in a workshop or consultation, let us know.